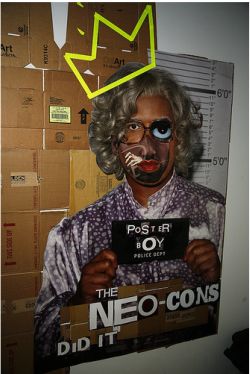 According to the New York Times, "Poster Boy" was arrested on Saturday night.
While most other street or graffiti artists concentrate on adding their own imagery, illegally, to parts of the subway system, Poster Boy, a kind of anti-consumerist Zorro with a razor blade, a sense of humor and a talent for collage, has made his outlaw presence known all over the city by cutting and pasting the images that are already there in the form of ads.
You've seen his work on this site before, in New York Magazine, The New York Press, and you've heard more over at PublicAdCampaign as Jordan is on it and has been for weeks.
The point of the New York Times piece is that there's a lot of questions about whether the police arrested the right person.
Paul J. Browne, the Police Department's chief spokesman, said that Mr. Matyjewicz (pronounced Mat-ee-YAY-veetch), who was also being sought on a warrant for a petty larceny charge from last year, was arrested in the art space, at Broadway and Howard Street in SoHo, and charged with two misdemeanor counts of criminal mischief.

"The officers had information that he was, in fact, going to be at that gallery that night," Mr. Browne said, adding that he believed that the department had evidence of Mr. Matyjewicz at work scrambling parts of subway posters. (Although his face is obscured, there is also plentiful video of Poster Boy doing his thing at friendswelove.com and on YouTube.)

But a man identifying himself as "Henry," who called The New York Times on Tuesday in response to messages for Poster Boy sent through friends, cast some existential doubt on whether Mr. Matyjewicz was, in fact, the man the police were after.

"Henry is one of many individuals who believe in the Poster Boy 'movement,' " the man wrote later on Tuesday in an e-mail message, referring to Mr. Matyjewicz in the third person. "Henry's part is to do legal artwork while propagating the ideas behind Poster Boy. That's why it was O.K. for him to take the fall the other night."

He added, "Henry Matyjewicz is innocent."

Moni Pineda, a co-creator and producer for Friends We Love, a New York documentary video series that profiles young artists, said that she and the series's other creator, Mike Vargas, had just begun a benefit event in the SoHo space on Saturday evening when they noticed a commotion involving a person Ms. Pineda would identify only as "a friend," adding, "Poster Boy could be anybody."

"The police came into a private event," Ms. Pineda said. "They didn't show a warrant to me or anybody. And the next thing we know, our friend is walking out with a bunch of guys we didn't know."
Without a doubt the police have arrested the wrong person
They've not only arrested the wrong person, in fact they're on the wrong case. Plain clothes officers in an art opening? Looking for someone to arrest based on a tip from a flyer?
Why are city resources going to arrest an artist who said himself can only afford a razor blade to make his work? There are billboard companies with illegal signs all over the city collecting thousands of dollars per month off their crimes. Follow the money. This has to be the NYPD Vandal Squad in action.
Arrest the repeat offenders leading the organized crime outfits
If the NYPD has this kind of time on their hands, investigate illegal signs. As long as they are making arrests that wont stick, arrest advertising executives. I'll quote Rami Tabello again, "There is a difference between crime and organized crime" and these outdoor companies are repeat offenders.
I wont even argue that Poster Boy is a vandal or that what he is doing is illegal. But who cares about a few signs on the subway when there's such bigger fish to fry. Where's the priorities? The sign enforcement unit doesn't have enough investigators to begin looking at this 5+ story beast of an illegal sign on 520 West 17th Street and it's been over 7 months since receiving a complaint. We've been on this sign since day one of illegalbillboards.org and nothing is happening because the resources are spent on tracking down New York's hottest, penniless street artist.
New York loves Poster Boy. NYPD, on this one, the city is not on your side.