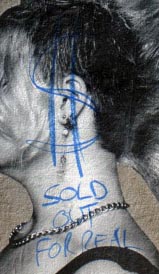 Clocking in a bit late to my Anti-Friday work day, ooops, and I'm revisiting an old issue: street artist Fauxreel's blatantly criminal spring motorscooter ad series in his native Toronto. It's a modern classic tale: corporate gas-guzzling motor vehicle manufacturer wants to up the street cred with some ads by a jen-yoo-wine member of the underground, who enjoys to eat of the food, and voila—instant edginess. Marketing gold!
Except here's a twist: It's turning former fans against him.
Fauxreel also goes by Dan Bergeron. I took one of his films on tour for a book I wrote about corporate infiltration of the cultural underground, and the underground's willing participation therein. (Maybe you recall "Quick Lobotomy?") He's been pretty tight-lipped about the whole incident, but I'm hoping to get Dan to talk to me on the record sometime next week about his willing participation in the corporate world, and the underground's response. Watch this space for more!