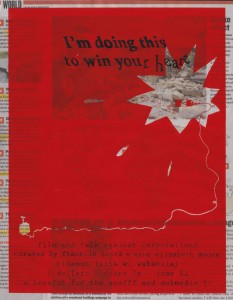 Join AAAFFF Executive Director Anne Elizabeth Moore and filmmaker Franklin Lopez at the Hideout on the Solstice to watch a charming and hilarious batch of brilliant little anticorporate films*. It's all designed to bring you, dear reader, back into the fold of independent cultural production. Won't you join us? It's just one night.
i'm doing this to win your heart
doors 7p saturday june 21 2008, the hideout
$7: a submedia.tv / AAAFFF benefit
*Seriously. Jo Dery makes crazy cute animations about housing rights; Sami Muillenberg of Reel Grrls interviews fellow teens about media consolidation; and Franklin's "Why I Love Shopping From Big Corporations," has actually prompted tears. Plus: The AAAFFFPPP.