For those of you in New York City, tonight provides a rare opportunity to see one of Guy DeBord's Situationist films during "Views from the Avant Garde" at the New York Film Festival. The film is called "
In girum imus nocte et consumimur igni." It's very rare and, from what I hear, VERY inspiring.
The Lincoln Center calendar puts it this way:
Like all of Debord's films, In girum stands apart from cinema, not to mention the modern world as it has evolved into its present state. Images from magazines, comics, and popular films are turned inside out (a process defined by Debord as détournement) to illustrate what he sees as the complete vacuity of mediatized society, of which we the viewers are unknowing participants.
For those of you who aren't fanatical Situationist fans like I am, the Situationist Internationale was a group of artistic political agitators whose movement began in France in the early 1960s. They condemned consumer culture and supported a more direct unification of life and art, seeking to release life from the cycle of buying and selling and fill it with human investments. We see their influence in all the art actions that groups like AAA and others participate in: culture jamming, detournment of billboards, you know… shop dropping and "you don't need it" stickers are very much a part of the Situationist legacy. Except they also had massive revolts.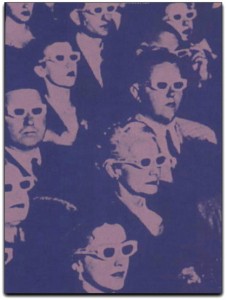 In girum imus nocte et consumimur igni
Series: 46th New York Film Festival [Sept. 26 – Oct. 12, 2008]
Director: Guy Debord, Country: France, Release: 1978, Runtime: 100 begins at 6:30 pm, tickets available at box office only.