1. With a wave of business closures in New York, store fronts are being converted over to street level billboards with little regard for New York City's sign laws. In these tough economic times it seems cheap adhesive vinyl and corporate crime lose to city permits and legal billboards in the corporate cost-benefit analysis. While they make a buck, we can "take a field trip to the peanutarium."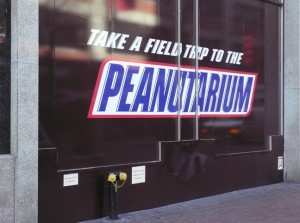 2. Using striking visual imagery to relate to our environment, question our social and political agendas through serendipitous moments, and ambiguous gestures, such as those of artist Shepard Fairey, are old hat. What we need from our street artists are active political gestures which shape thinking and disseminate ideas, as opposed to create confusion in hopes of shaking things up.  Do you agree?
3. Jenifer Jacobs has fun at CBS's expense and maybe you should too. She says, "My art is an effort to take responsibility for the effects of my exposure to popular media and provide an insightful and personal response." Amazing, most of us just let it wash over us like a cool breeze.
4. Illegal billboards are everywhere but it's always fun to catch them when they are feeling out new teritory. Brooklyn isnt as popular as Manhattan but in this economy, companies are scoping out some new spots across the river.
5. I love how building owners and outdoor advertising companies feign ignorance of both the penalties and the laws regarding outdoor advertising signage. Perhaps this $955,000 fine might help educate the industry, or bettter, eventually drive them all out of business.