via Joey Skaggs' The Art of the Prank:
Posted by harshavardhan on Thought Beans Blog, November 2, 2007: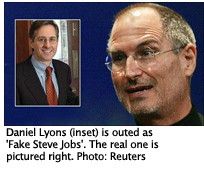 The Fake CEO blogs, have become a big buzz in the blogosphere. Amongst the fake blogs, the Fake Steve blog is most popular.
It is written by Daniel Lyons, a senior Editor at Forbes Magazine. It took almost 14 months to find out the author of this Fakesteve Blog. Daniel writes the Technology articles for Forbes.
There are other fake CEO blogs:
Fake Richard Branson blog
Fake Larry Ellison
Fake Bill
Fake Schwartz
Fake Steve Ballmer
Fake Steve
Thanks David Strom. Photo image: TheAge.com.au.
Related link:
Author of Fake Steve Jobs Blog Outed