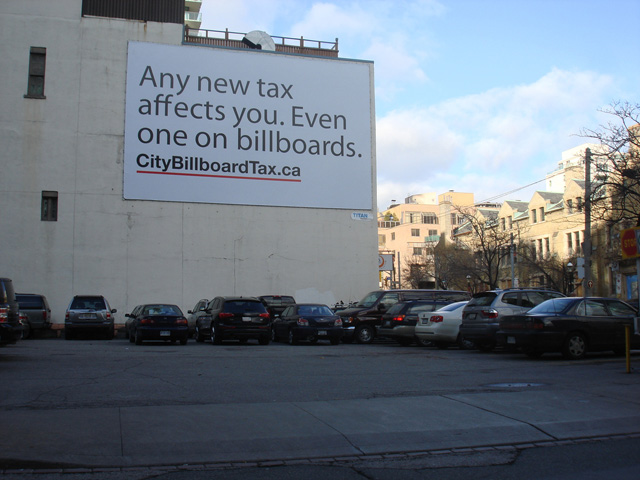 The billboard industry is—obviously—in the business of getting messages across.
This they have managed to do, with a vengeance.
In anticipation of today's City Council debate on a proposed new billboard bylaw and tax, the billboard industry has been using its own platform to communicate its deep opposition to these measures. The Out-of-Home Marketing Association of Canada (OMAC), which represents the vast majority of billboard companies operating in Toronto, launched this campaign last week, setting aside 139 billboards for the cause.
Inconveniently, it turns out that at least two of these 139 billboards have been deemed illegal by the City. As pointed out and explained to us by Rami Tabello of Illegal Signs, both are in violation of existing regulations and neither should be doing what they are doing, namely expressing just how aggrieved and put-upon the billboard industry is feeling.
And this, say public-space activists, is precisely the point.
[snip]
The proposed regulations will not eliminate billboards, and they aren't trying to. Nobody is attempting to strangle the industry to death, stamp out all billboards across the land, or otherwise start a revolution. The City has every right to govern what goes on in our public spaces, and it has every obligation to be a good steward of those spaces, balancing the commercial interests of the industry and the property owners to whom billboard companies pay rent with the civic interests of the majority of Torontonians, 70% of whom support this tax according to a recent poll [PDF].
Nobody likes to be forced to play by the rules. That doesn't make refereeing an unfair practice.
via Billboard Companies Protest Billboard Tax…On Illegal Billboards – Torontoist.