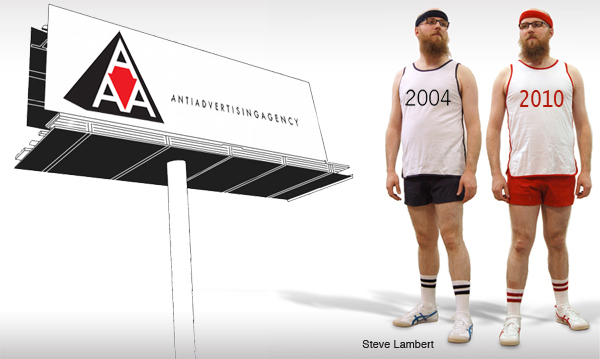 From HyperAllergic:
Yesterday, someone suggested to me that artist Steve Lambert's Anti-Advertising Agency is going dormant after six years of producing some of the most socially engaged work around. For those who may be unfamiliar with the group, they actively co-opted the language of advertising and public relations to question and parody its pervasiveness in our lives. The group is most well-known for its Add-Art project, which invites individuals to curate a small selection of online banners that would replace online advertising through a free Firefox add-on, and the 80,000 copies of their mock New York Times they distributed on November 12, 2008, that declared "Iraq War Ends" and included other "best case scenario news set nine months in the future."
The ominous looking header on the homepage of the Anti-Advertising Agency, complete with start and end dates, pushed me to contact Lambert about what's happening with his artistic brainchild.
Read the rest: Steve Lambert's Anti-Advertising Agency Takes a Long Coffee Break.