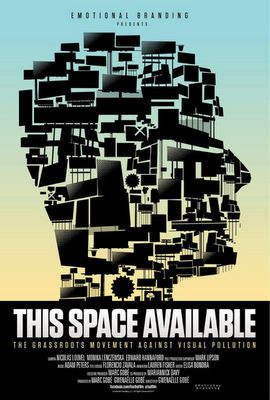 PublicAdCampaign is proud to announce the world premier of the documentary film This Space Available. This full length feature focuses on the issue of visual pollution in our global community. Intent on creating a critical dialogue on the issue, the film investigates a wide range of perspectives including those of billboard executives, government agencies, and public space activists like myself. While the film will eventually be widely available, DOC NYC will be premiering the film on Saturday November 5th at 7pm at the IFC theater in New York City. There will also be a Q&A after the screening for viewers to question the film makers and a few of the subjects. We hope to see you there.
To purchase tickets for the This Space Available premier at the DOC NYC fest at the IFC theater on 11-05-11, please visit the DOC NYC website [HERE]. Remember there is limited space available so get your tickets now before they are all gone.
The grassroots movement against visual pollution
A documentary film directed by
Gwenaelle Gobe
Executive Producer: Marc Gobe/Emotional Branding
World Premiere at IFC Center/ New York
Saturday November 5th Time: 7:00 PM
Tuesday November 8th Time: 1:15 PM
via Public Ad Campaign: This Space Available – DOC NYC World Premier at the IFC Theater.