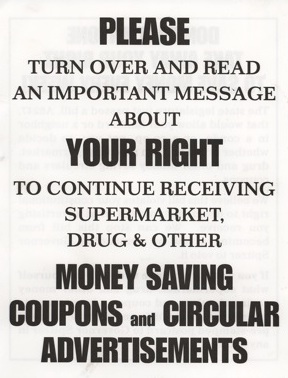 The spin on this direct mail campaign to save direct mail is near Luntz Levels. (I just coined that phrase, you read it here first!) Apparently our own Emily Gallagher has been mistaken for the over 60, easily conned, coupon filled fanny pack demographic, as she received this call to action in the mail recently. The card speaks for itself, so do click on the thumbnails below to read more. However, I will emphasize this line: "We believe this bill violates your constitutional right to decide for yourself what advertising you receive." Of course, we must protect the Constitution here. Make no mistake, the Constitution is very clear on money saving circulars and advertising coupons. But more than that, since when do I get to decide what advertising I receive?
Your name, address, income, and purchasing habits are all cataloged and sold, with just a shred of your consent. Literally. I'm using the second person because I mean you. And there are thick, phone book size catalogs that sell the personal information of you and people like you. Say you're a Republican and listen to hip hop. Or perhaps you read ArtForum and registered for the Green Party. Your information has already been sold by companies like those in the links. Search for your own demographic here and if you don't find what you're looking for, don't worry, there's other companies. Yes, this is how those mail order catalogs keeps finding your house.
But hey, if you don't want the solicitations simply follow a series of cumbersome, redundant steps, or pay some company $20-$40 to do it for you, and most of it, probably, might stop filling your mailbox.
So don't let the evil government take away your rights! Remember, you choose what advertising your receive… so they say.
P.S. Check out EPIC if your concerned about keeping your information private.