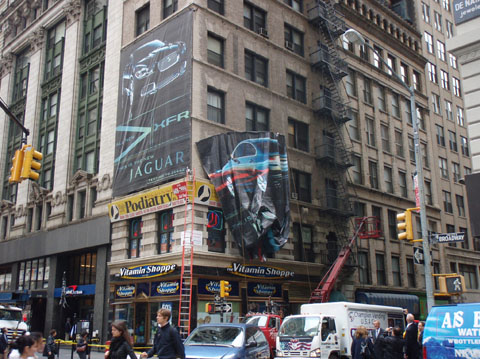 From The New York Times City Room blog:
For several years — in spite of 103 violation notices issued against it — a three-story, wrap-around billboard has blanketed the lower floors of the 19th-century Cushman Building, 174 Broadway, at Maiden Lane.

On Thursday, clearly feeling that its enforcement efforts had been lost on OTR Media Group, which installed the sign, and 1 Maiden Lane Realty, which owns the building, the Department of Buildings took the sign down itself.

"This is the first time the Department of Buildings has physically removed an illegal sign from a building," the agency's press secretary, Kate Lindquist, said. A company called Service Sign Erectors performed the work for the city.
Glad to see the Department of Buildings is able to follow up on one of the more flagrant billboards in the city. Ashamed that this is the first time, but I don't believe that's true – I remember they took down ads on sidewalk sheds a couple years ago? Also ridiculous that they hired a media company to remove the sign. But most importantly, there are hundreds of signs just like this one left to go. What to do? Later in the piece it's clear just how much they respect these media companies have for the city and quality of life:
"The attorney for the respondent signed a stipulation agreeing to cease the display of illegal signage at the premises, and a judge recommended the removal of the sign," Ms. Lindquist said in a statement. "After a removal order was posted, a Department of Buildings inspection determined the sign was removed, yet it was promptly reinstalled days after the inspection."