from R. Walker at Murketing: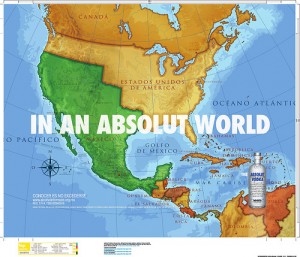 Strange Maps, via The Plank:
This map, used in a Mexican ad campaign, shows what the US-Mexican border would look like in an 'absolut' (i.e. perfect) world: a large part of the US's west is annexed to Mexico.

Needless to say this map made its way to 'El Norte', annoying and upsetting many Americans – even leading to calls for a boycott of the Swedish-made vodka. What must be particularly annoying is that this map has some basis in fact.
The Plank also points to the reaction of someone named Michelle Malkin:
The advertising firm that created the Absolut Reconquista ad is Teran/TBWA. Teran is based in Mexico City. The company's website boasts a pretentious statement of philosophy advocating "disruption" as a "tool for change" and "agent of growth." (Scroll your mouse over the little buttons in the upper-right margin.) The firm advocates "overturning assumptions and prejudices that get in the way of imagining new possibilities and visionary ideas that help create a larger share of the future."

Translation: The company advocates overturning borders that get in the way of imagining new maps of North America that help Mexico create a larger share of the continent.
Well. Two things.
First: An ad agency with a pretentious mission statement full of doublespeak clichés about change and disruption? No way! Say it isn't so! That's never happened before!
Second: Like every other agency, what these marketing pros "advocate" is getting paid by their clients. The way they get paid by their clients is to get their clients talked about and noticed. And that was Absolut-ly the goal here. Ad agencies don't have a political motive. They have a profit motive.
Lifted entirely from R. Walker's Murketing blog. (Thanks Rob!)