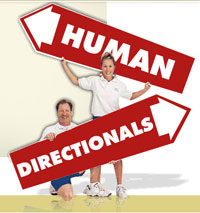 The Sacramento Bee has written a relatively fluffy piece on what are becoming known as "Human Billboards" or "Living Arrows". These are the people at intersections paid to frantically wave signs around attracting attention to a mattress sale or condo development. As the Bee itself says:
"It's a way for developers and business owners to get around regulations governing permanent and temporary signs — and it simply works."
The Sacremento Bee requires a login to view the article. We recommend getting one from Bug Me Not instead.