Ray Beldner: The Word on the Street
March 28- June 14, 2008 at the San Jose Institute of Contemporary Art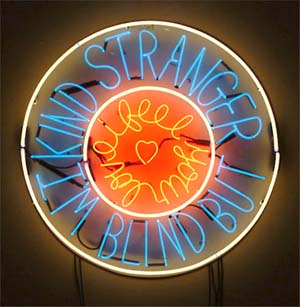 From the exhibition description:
The Word on the Street, neon signs by Ray Beldner, is an installation in the gallery's front windows at 560 South First Street. The Word on the Street is part of the ICA's "Night Moves" installation series, an innovative program that gives the ICA a nighttime presence and animates the downtown cultural landscape by showcasing after-dark programming in the gallery's windows.
Ray Beldner uses language from homeless signs to make poetic neon versions that reflect sentiments of our own shortcomings, losses and desires. An expert in appropriation and unexpected collaborations, Beldner's work in part pays homage to Bruce Nauman's famous neon sign, The True Artist Helps the World by Revealing Mystic Truths. Responding to this statement, Beldner reveals human truths written by homeless individuals he has met on the street. Twisting what one would expect in a neon window display, Beldner's signs cleverly reflect on what it means to be an artist and a human.
via SJICA