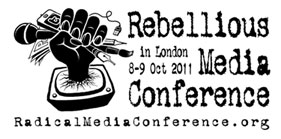 A corporate media group has trademarked the phrase "Radical Media" and has issued a cease and desist letter to activists using it in the title of their conference, which takes place in London later this year.
The advertisers, @Radical Media, have forced organizers to change the title of the gathering to Rebellious Media Conference. The revised conference logo appears above.
Readers are invited to attend a demonstration outside @Radical Media's London office:
"We make radical media, You make adverts"
Tuesday, 3rd May
5:00pm – 7:00pm (17:00-19:00)
1 Alfred Mews,
LONDON W1T 7AA
by Heals, off Tottenham Court Road.
via The Groundswell Blog: Advertisers Trademark the Phrase "Radical Media", Targeting Activists.